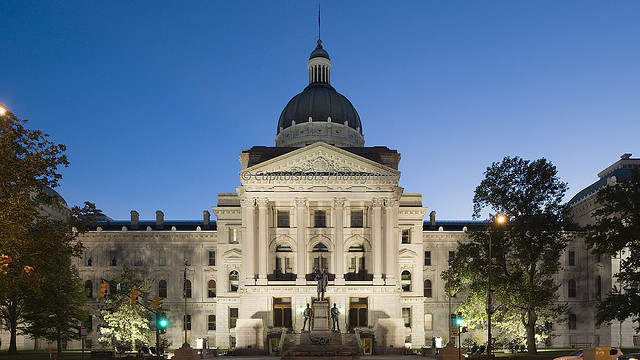 The 2017 Legislative session of the Indiana General Assembly is now in session.
We are happy to report that HB 1002 passed out of both chambers late in the night on Friday April 21 in the final hours of the 2017 120th General Assembly legislative session and was signed by Governor Holcomb. Thank you for your dedication throughout the session in advancing Indiana's largest road funding investment.
Please be sure to contact your legislators as soon as possible and THANK them for their courage in crafting and supporting transportation infrastructure funding this session.
The bill phases in the funding for locals, it begins at $260M per year for local units in FY 18 and increases over time. By 2024, it is projected to be an annual increase of $340M to local units. Included in the bill Community Crossing Matching Grant Fund will continue to be funded. For a county grant applicant, the following will be the new required match: (A) 50% local match, if the county has a population greater than or equal to 50,000. (B) 25% local match, if the county has population of less than fifty thousand (50,000). Additionally, INDOT may now exchange federal highway fund dollars with state dollars for local projects to reduce cost, time and bureaucracy at the local level. There are several other details in the bill. Please see below for additional information and details. I will be sending out an additional legislative update early next week on other bills of interest that passed this session.
Additional Information:
HB 1002 summary
HB 1002 fiscal analysis
IACC Bill Tracking list