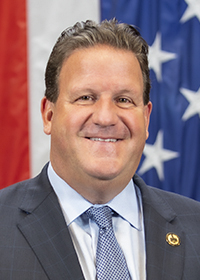 President's Message
A Message from 2023 ICC President Mark Heirbrandt, Hamilton County Commissioner
Welcome to the Indiana County Commissioners.
It has been an honor to serve as the ICC President, and I am looking forward to witnessing Kellie Streeter, Knox County Commissioner, lead the ICC beginning 2024.
County Commissioners provide essential services to Indiana residents, impacting quality of life. Our Board of Directors, County Commissioners and strong state-county partnerships continuously advocate for local government to the Administration and General Assembly to serve Hoosiers in every county.
We value your membership, mentorship and participation at the ICC. With your dedicated support we will continue to provide the best education, leadership support and advocacy services for our County Commissioners to strengthen county voices throughout Indiana. Most of the ICC's success comes from member participation. We all benefit when you get involved. I encourage ICC members to continuously engage with the association. Our Annual Membership Directory connects you with statewide County Commissioners and trusted associate vendor members.
With every County Commissioner, County Executive and County Council member's voice advocating, we can form strong county voices and create a bright future for Indiana residents. Thank you for your support.
Sincerely,

Mark Heirbrandt
---
Our Mission
Our mission is to provide the best education, leadership support, and advocacy services for our County Commissioners to strengthen county voices throughout Indiana.
Stronger Counties for a Stronger Indiana
Counties act as an arm of state government and represent the state through the delivery of services to residents in areas, such as providing justice and public safety services, workforce preparedness, protecting children, administering elections, serving vulnerable Hoosiers and maintaining roads and bridges.
As such, counties are heavily impacted by the Indiana General Assembly's actions, and it is essential that we continue to prioritize the state/county partnership.
ICC works to continually strengthen the partnership by providing legislative advocacy on behalf of our members as well as updating our members about legislation and rules impacting county government.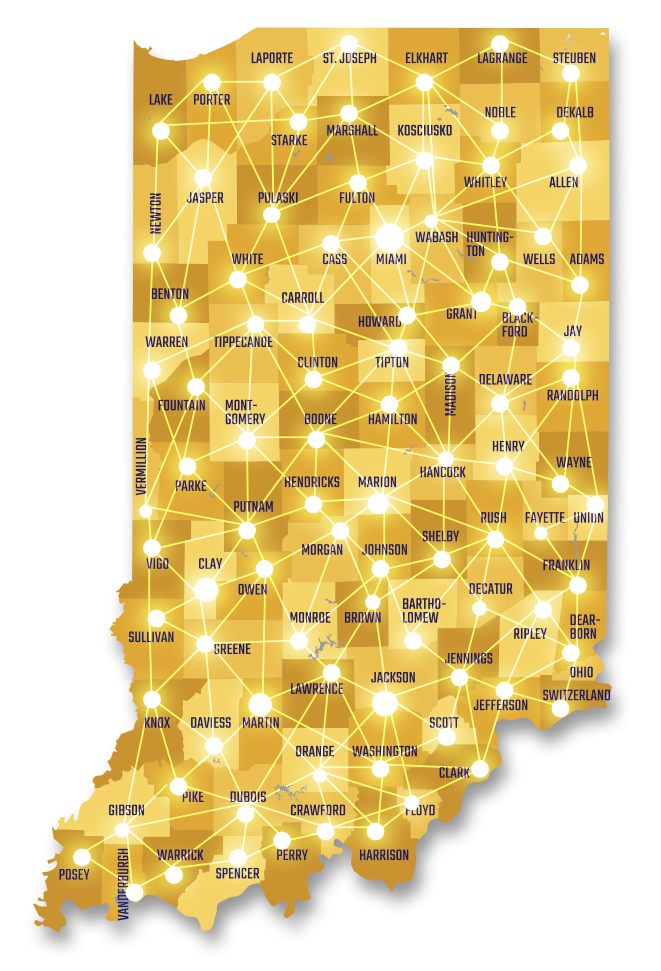 ---
Membership
All 92 Counties
Each County is a member for the benefit of its Commissioners and pays annual dues based on the County population
Associate Vendor Members
Presently, the Association has approximately 180 Associate members.
Full Members
A statewide membership that includes a Directory and website listing, Annual Conference discounts, Newsletter, and inclusion in all other programs and events where appropriate.
---
Activities
Annual Conference: Held the first full week after Thanksgiving in Indianapolis, the conference gives all the Members a chance to come together, exchange ideas and experiences, and hear about new issues.
Directory: The Association publishes a bound Directory each year that contains information similar to what is included in this website.
District Meetings: District Meetings are held in June and are opportunities to learn, share, and build relationships that can support Commissioners and their responsibilities.
Workshops: The Board's goal is to hold at least two full day seminars for the benefit of its Members.
---
ICC Districts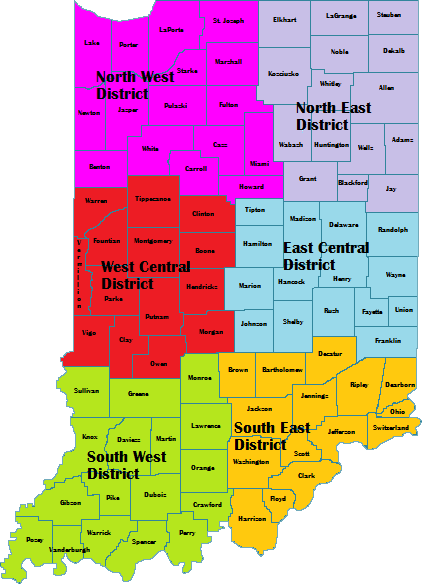 NORTHWEST: Benton, Carroll, Cass, Fulton, Howard, Jasper, Lake, LaPorte, Marshall, Miami, Newton, Porter, Pulaski, St. Joseph, Starke, and White.
NORTHEAST: Adams, Allen, Blackford, DeKalb, Elkhart, Grant, Huntington, Jay, Kosciusko, LaGrange, Noble, Steuben, Wabash, Wells, and Whitley.
WEST CENTRAL: Boone, Clay, Clinton, Fountain, Hendricks, Montgomery, Morgan, Owen, Parke, Putnam, Tippecanoe, Vermillion, Vigo, and Warren.
EAST CENTRAL: Delaware, Fayette, Franklin, Hamilton, Hancock, Henry, Johnson, Madison, Marion, Randolph, Rush, Shelby, Tipton, Union, and Wayne.
SOUTHWEST: Crawford, Daviess, Dubois, Gibson, Greene, Knox, Lawrence, Martin, Monroe, Orange, Perry, Pike, Posey, Spencer, Sullivan, Vanderburgh, and Warrick.
SOUTHEAST: Bartholomew, Brown, Clark, Dearborn, Decatur, Floyd, Harrison, Jackson, Jefferson,Jennings, Ohio, Ripley, Scott, Switzerland, and Washington.
Leadership and Staff